Utah First
Earlier this week I delivered my annual report to the Utah House of Representatives and the Utah State Senate. During every year of my Senate service, I have taken the opportunity to visit with the fine men and women of these legislative bodies that make Utah one of the best-managed states in the nation.

As part of my visit, I shared my annual report, which is a compilation of legislative activities, speeches, press reports, and state services in an effort to remain accountable to the State of Utah and the constituents I serve. If you would like a copy of my 2014 Annual Report, please feel free to contact any one of my Senate offices for more information.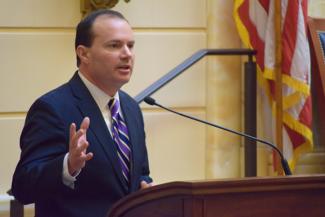 Speaking to the Utah Senate
On Wednesday I also had the pleasure of visiting the Women's State Legislative Council of Utah to discuss my conservative reform agenda and field questions from group members. As an organization, the WSLC serves to investigate local and national issues, with the ultimate goal of bringing about legislation that is beneficial to this great state.

Impressively, the WSLC is now entering its 95th year of service to the citizens of Utah. Formed soon after the passage of the 19th Amendment in 1920, the WSLC is one of the oldest women's political organizations in the United States. It was truly a privilege to spend some time with the great members of the Women's State Legislative Council of Utah.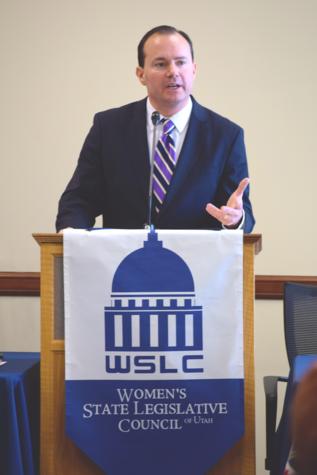 Meeting with WSLC
In addition to meeting with WSLC, on Wednesday I also joined with the Utah House of Representatives in recognizing several veterans of WWII at the Utah State Capitol. The ceremony was organized by the Utah Honor Flight project to bring awareness to the critical need of supporting our veterans. It is my privilege as a United States Senator to be able to pay tribute to the many men and women who have dedicated their lives to protect our freedom.
Recognizing WWII Veterans
After delivering my annual report to the Utah State Legislature this week, my staff and I were able to enjoy a scoop of one of Northern Utah's favorites, Aggie Ice Cream.
I appreciate the great work performed by all the leaders of the state of Utah, and I am honored to represent this great state.