Utah First
Mobile Offices – "The Forks"
My staff recently traveled down to Utah County to set up mobile office visits in Spanish Fork and American Fork, Utah. Some of the topics discussed during the visits included federal sentencing guidelines, privacy rights, public lands, second amendment rights, the Affordable Care Act, and NSA bulk data collection.
Mobile office visits are a great way for Utahns to connect locally with my staff and discuss important issues. If you have a topic or issue you would like to discuss with a member of my staff at a mobile office, please visit my mobile office page for upcoming dates and locations.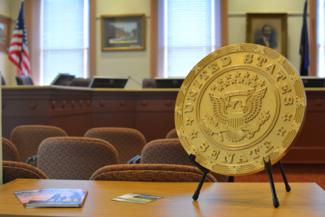 Action Target – Provo, UT
In May, my staff had the opportunity to visit an outstanding Utah company, Action Target of Provo, Utah.
Founded in Provo in 1986, Action Target is the largest shooting range equipment manufacturer in the world. As the global leader of indoor and outdoor shooting ranges, Action Target has completed thousands of projects throughout the United States and in more than 40 countries. From its headquarters in Provo, Action Target manufactures over 4000 specialized products designed for its commercial, military, and law enforcement clientele.
As my staff met with the management team of Action Target, it was clear to see how the growth of Action Target has directly benefited the Utah economy. Because of its vertical integration, Action Target is better able to source local materials and provide better employment opportunities for Utahns. This model is a great reminder of why a free market economy and a voluntary civil society must work together—the best way to get ahead is to help others do the same.