SALT LAKE CITY – Senator Lee announces two upcoming town hall events during the first week of September in Bountiful and Coalville, Utah. On Tuesday, September 1, Senator Lee will be holding a town hall visit at the Woods Cross High School Auditorium, and on Wednesday, September 2, Senator Lee will be stopping by the North Summit High School Auditorium for a town hall meeting in Coalville, Utah. Both town hall visits begin at 7:00pm.
"Town hall visits play a significant role in my effort to serve the Utahns whom I represent. These events are important in two ways. First, town hall visits provide an opportunity to update Utahns about my legislative efforts as a United States Senator. I use this as a forum where I can provide specifics about ways in which I am working to bring constitutional reform to Washington. Second, these events provide an opportunity to answer constituent questions and I can hear first-hand about the issues which are important to local Utahns. Town hall visits are one of my favorite ways in which I connect with the Utahns whom I serve."
Bountiful Townhall
Coalville Townhall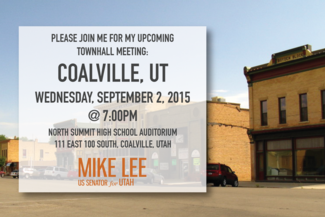 Click here for more detailed information about Senator Lee's upcoming town hall visits.