Earlier today I hosted a roundtable in my Salt Lake City office with more than a dozen community leaders involved in fighting poverty in Utah and reforming the most counterproductive of our nation's criminal justice laws.

A follow-up to two similar roundtables I've hosted in the past year and a half, the event allowed me to update the group on the progress we've made in building consensus and support in Congress for my welfare, education, tax, and criminal justice reform bills. Of particular interest was the Smarter Sentencing Act, of which I am a sponsor alongside Senator Dick Durbin, a liberal Democrat from Illinois. The Smarter Sentencing Act is a commonsense bill that would make modest, but much needed, changes to our criminal justice system by reforming the current mandatory minimum guidelines and giving judges more discretion when sentencing non-violent offenders. With the endorsement of many of my Democratic colleagues, as well as President Obama, it is also a perfect example of the kind of sensible government reform ideas that attract bipartisan support. I'm hopeful that provisions from the Smarter Sentencing Act will be incorporated into a broader, bipartisan criminal justice reform package later this year.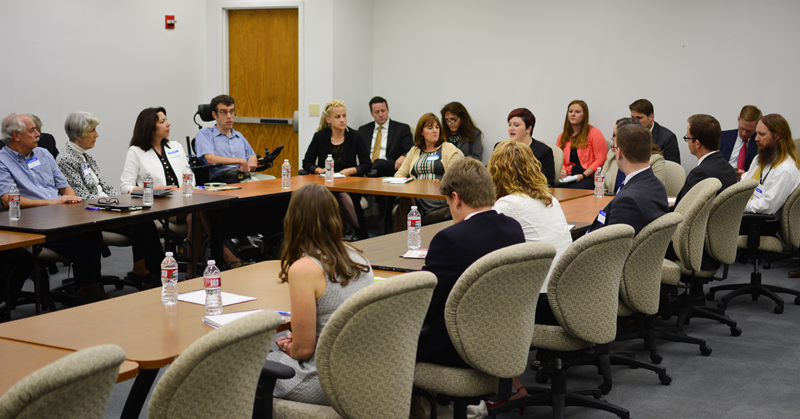 But more than anything, today's roundtable was an opportunity for me to listen to the community leaders and those on the front lines of the fight against poverty about what works, what doesn't, and what we can do together to expand access to opportunity to those who need it most. Whether they work for a non-profit, a local government agency, or a faith-based organization, the leaders who attended the event know firsthand what it takes to alleviate poverty in our communities and remove the obstacles to economic security facing those who are disadvantaged or have fallen on hard times. Hearing their stories, of success and of failure, is absolutely essential to me as I work to represent the people of Utah in the United States Senate.

As we said at the conclusion of the roundtable, this was the beginning, not the end, of a dialogue about how we can work together to build stronger communities and help each other live happy, productive lives.