Press Releases
Jan 31, 2019
WASHINGTON – Sen. Mike Lee (R-UT) issued the following statement after introducing the Federal Courts Access Act of 2019, Thursday. "For too long, trial lawyers have been able to manipulate the diversity jurisdiction rules to deny litigants their day in federal court," Sen. Lee said. "By creating a minimal diversity requirement consistent with the vision of the very first Congress, this bill increases out-of-state litigants access to the federal courts for major controversies. By returning to first principles, we can increase both fairness and efficiency in the civil litigation system."
Jan 31, 2019
WASHINGTON – Sen. Mike Lee (R-UT) reintroduced the "CBO Show Your Work" Act Wednesday, legislation designed to improve the legislative process by making the Congressional Budget Office more transparent and accountable. "Congress does need a scorekeeper to provide budgetary estimates for the policy changes it considers," Sen. Lee said. "But at a bare minimum, that scorekeeper should be forced to show how its models work. Currently the CBO doesn't have to do that."
Jan 28, 2019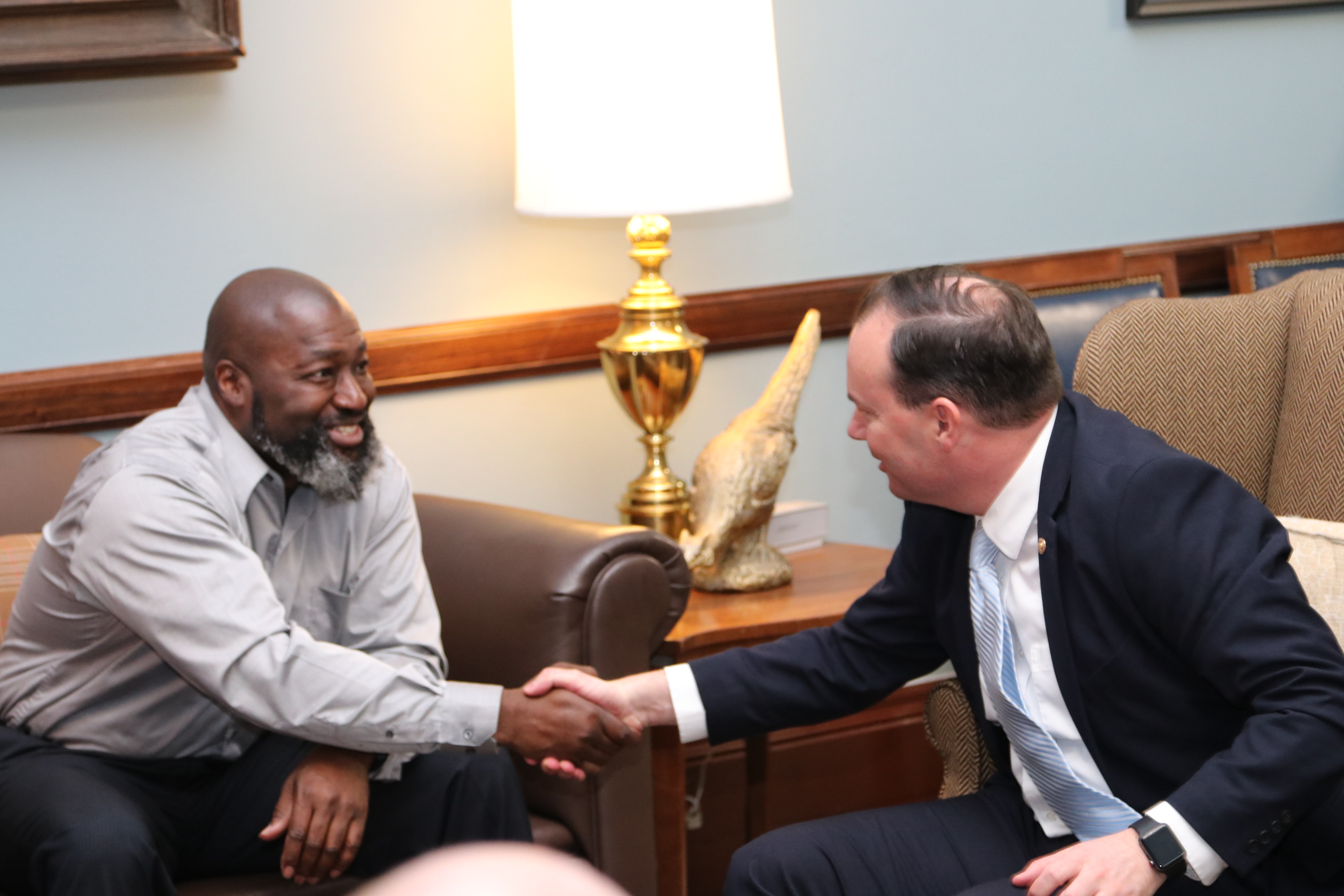 WASHINGTON – Sen. Mike Lee (R-UT) issued the following statement after meeting Matthew Charles, the first prisoner released due to passage of the First Step Act: "It was truly an honor to meet Matthew Charles today," Sen. Lee said. "Here is a man who served his debt to society, turned his life around, and is already contributing to his family and community. There is still more we can do to make sure our criminal justice system is as fair and humane as possible, and success stories like Mr. Charles will make further reform possible."
Jan 25, 2019
WASHINGTON – Sen. Mike Lee (R-UT) issued the following statement after President Trump announced the end of the government shutdown: "It is of course a relief that the shutdown is over. But the shutdown was not created by the crisis on the border. It was created by the failure of Congress to do its job. The way we are doing things now is convenient for politicians, but not for the American people. Government funding and immigration policy shouldn't be a secret negotiation, but an open debate on the floors of the House and Senate. That's the only way the American people can be included in this process."
Jan 24, 2019
WASHINGTON – Today, Senators Mike Lee (R-UT) and Chuck Grassley (R-IA) reintroduced an amendment to the United States Constitution that would require the federal government to balance its budget each year. This amendment would put a stop to the current "status quo" of Congress spending far more money than the federal government takes in and would place strict limitations on the federal government's ability to increase taxes, raise the debt limit, and carry out other actions that threaten our long-term fiscal sustainability.
Jan 24, 2019
WASHINGTON – Today, Senator Mike Lee (R-UT), along with Sens. Ted Cruz (R-TX), John Cornyn (R-TX), Rand Paul (R-KY), James Risch (R-ID), and Mike Crapo (R-ID) reintroduced the Silencers Helping Us Save Hearing Act of 2019, a bill that would ensure the elimination of all federal regulations of suppressors.
Jan 24, 2019
WASHINGTON – Sen. Mike Lee (R-UT) issued the following statement Thursday after voting against a White House plan to fund the federal government: "If this had been a vote to begin debate on a deal to end the shutdown, I would have happily voted yes," Sen. Lee said. "But this was a vote to end debate on a bill that I believe is fundamentally flawed. In fact, after specifically asking for assurances that we would be allowed to offer amendments, no assurances were given. This bill as is simply does not do enough to reform our immigration system or address the crisis at our southern border."
Jan 22, 2019
WASHINGTON – Sen. Mike Lee (R-UT) introduced legislation Friday that would make the administration's "Protecting Life in Global Health Assistance" policy, former known as the Mexico City Policy, permanent statutory policy. "The administration's ban on funding overseas organizations that promote abortion has already saves and will continue to save countless lives across the globe," Lee said. "We cannot leave the fate of these regulations up to the whims of successive presidents. Congress must now step up and do what they can to turn the 'Protecting Life in Global Health Assistance' executive order into law."
Jan 16, 2019
WASHINGTON – Sen. Mike Lee (R-UT) today spoke on the Senate floor regarding the 46th annual March for Life, to be held in Washington, D.C. this Friday. "The story of American history is the story of our nation overcoming oppression, protecting the vulnerable in our laws and with our lives. From Independence Hall to the Bill of Rights, from the abolition of slavery to universal suffrage to the Civil Rights movement, to the triumph over Nazism, fascism, and communism… the American people have fought through prejudice and pride to assert and to defend the equal dignity of every member of our human family.
Jan 10, 2019
WASHINGTON – Today, Sens. Mike Lee (R-UT) and Mitt Romney (R-UT) reintroduced the Protect Utah's Rural Economy (PURE) Act. The bill would protect Utah from presidential Antiquities Act abuse in much the same way Alaska and Wyoming are currently protected.