Press Releases
Dec 11, 2012
Today, Senator Mike Lee, ranking member of the Judiciary Committee's Antitrust Subcommittee, issued the following statement regarding Delta Air Lines Inc.'s announcement that it will acquire a 49 percent share of Virgin Atlantic Airways for $360 million.
Dec 6, 2012
WASHINGTON – Today, Senator Mike Lee issued the following statement regarding Senator Jim DeMint's announcement he will be leaving the Senate to join The Heritage Foundation as the think tank's new president:

"Jim has been a source of inspiration for many of us who came to Washington to fight for our core conservative beliefs. He has shown that getting things done doesn't have to mean abandoning your principles. For too long, he was a movement unto himself in the Senate, keeping the torch lit for free-market principles and limited government. We are a better country for his service. Jim is a friend and mentor, and I plan to honor his time in the Senate by continuing the push for individual liberty and restoring constitutional government."
Dec 4, 2012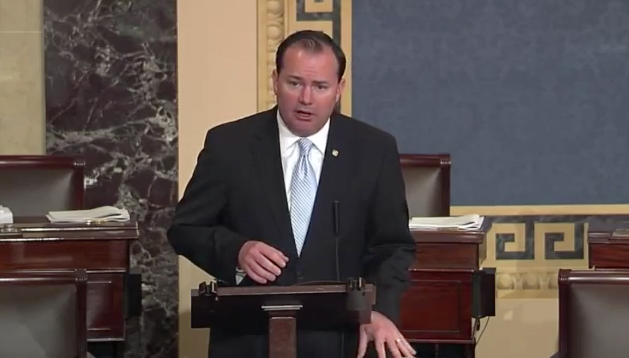 Today, Senator Mike Lee applauded the Senate for voting to protect American sovereignty, uphold the rights of parents, and block the recognition of so-called international "entitlement rights." Thirty-seven senators joined Lee in opposing the United Nations Convention on the Rights of Persons with Disabilities in an effort to ensure certain provisions would not become the "supreme law of the land."
Dec 3, 2012
Senator Mike Lee's bipartisan reform that protects the rights of states to determine for themselves how to handle partisan political activity by state and local employees recently passed in the Senate. The bill, S. 2170 The Hatch Act Modernization Act, still prohibits inappropriate political action, but fixes the law so that state and local employees who work for agencies which receive partial federal funding are not barred from running in a partisan election.
Nov 30, 2012
On November 2, 2012, Senator Mike Lee (R-UT) joined Representatives Rob Bishop (R-UT) and Jason Chaffetz (R-UT) in asking Director Daniel Ashe of the U.S. Fish and Wildlife Service to provide a 90 day extension to the comment period for the Proposed Rule on Endangered and Threatened Wildlife and Plants; Proposed Threatened Status for Coral Pink Sand Dunes Tiger Beetle and Designation of Critical Habitat.
Nov 29, 2012
Today at the Senate Judiciary Committee markup, Senator Mike Lee (R-UT) voted in favor of amending the Electronic Communications Privacy Act (ECPA) to require that the government obtain a warrant to access the contents of a person's email. The measure, which was favorably reported out of the committee, would eliminate the "180-day rule" that currently allows government agencies to access emails older than 180 days with only an administrative subpoena or other similar request.
Nov 29, 2012
Today, Senator Dianne Feinstein (D-CA) and Senator Mike Lee (R-UT) introduced an amendment to the National Defense Authorization Act (NDAA) that would protect American citizens from being indefinitely detained.
Nov 29, 2012
oday, the Senate overwhelmingly passed an amendment sponsored by Senators Mike Lee (R-UT) and Dianne Feinstein (D-CA) that protects Americans from indefinite detention. By a vote of 67 to 29, the amendment was added to the National Defense Authorization Act and insures that American citizens and permanent legal residents apprehended on American soil will be charged and have access to a trial. It was the result of more than a year of collaboration by the California Democrat and Utah Republican in an effort to protect Americans' due process rights.
Nov 15, 2012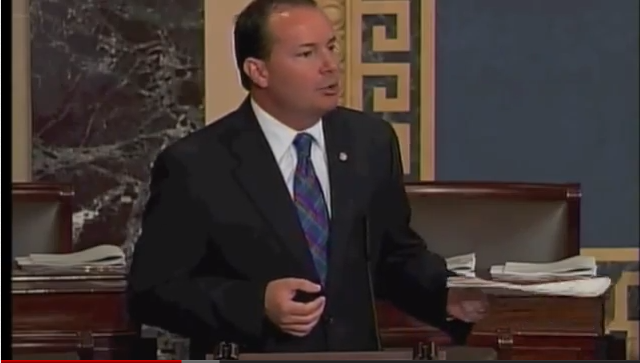 Today, Senator Mike Lee called on the Senate Majority Leader to end the abuse of procedural tactics used to prevent debate on legislation. In a speech on the Senate floor, Senator Lee said that by "filling the tree" the Majority Leader blocked other senators from offering "any amendments other than those few that the majority leader decided could be offered."
Nov 8, 2012
Today, Senator Lee visited Sanpete County, accomplishing his goal of visiting all 29 Utah counties in the calendar year. In visiting more than 40 cities and towns across Utah, Senator Lee met with state representatives, local officials, business leaders, educators, military officials and hundreds of constituents about a range of issues that face Utahans and offer solutions on how his office can help.