Jul 11, 2018
Twice in the past 20 years, Washington politicians serving wealthy out-of-state special interests attacked Utah's rural communities. President Donald Trump provided these communities some temporary relief in October, but if we want to permanently protect Utah's rural economy from outside intervention, we need to act now.
May 18, 2018

In 1841, Orson Hyde, an early Latter-day Saint and distant family relative of my wife, visited the Holy Land. He said a prayer on the Mount of Olives, preparing that land for the return of the historic inhabitants of Jerusalem, the Jewish people. More than 175 years later, as I witnessed the official opening of the United States Embassy in Jerusalem on Monday, I thought of Hyde's pilgrimage and all that it meant for him, his faith and our country.
May 10, 2018
Our nation is struggling through one of the worst public health crises in its history. Approximately 64,000 people died from drug overdoses in 2016, the most recent year of national data. Opioids accounted for nearly two-thirds of those deaths. This plague has not spared Utah. In fact, ours is one of the states hardest hit by the opioid crisis. On average, nearly six Utahns die weekly from opioid overdoses. Opioid deaths now outnumber deaths from motor vehicles and firearms. And three Utah rural counties were identified recently by the U.S. Department of Agriculture as being among the most vulnerable nationwide.
Apr 26, 2018
"I will never sign another bill like this again," President Trump said after signing last month's 2,232-page, $1.3 trillion omnibus spending bill. President Trump is right. The omnibus bill Congress passed this March betrayed everything for which conservatives stand.
Apr 25, 2018

This week, the Senate Judiciary Committee will consider legislation providing that any special counsel appointed by the Justice Department may be fired only for good cause and allowing a special counsel who has been fired to challenge the decision in court. The proposal is politically salient because many fear the president will fire Robert Mueller. To be clear, the president should allow Mueller to finish his investigation into Russia's election interference in a timely fashion.
Feb 28, 2018

In Yemen, a child under the age of five dies of preventable causes every 10 minutes. That is just one startling fact from a country that has been torn by war for nearly three years. More than 10,000 civilians have died and over 40,000 have been wounded in this war. Fifteen million people can't access clean water and sanitation. An estimated 17 million people – 60 percent of the total population – do not have reliable access to food and are at risk of starvation.
Jan 18, 2018

Remember earmarks, those infamous, special-interest spending provisions party leaders used to sprinkle over legislation like sugar to get representatives and senators to hold their noses and vote yes on bills they would otherwise oppose? You probably haven't heard about earmarks lately, thank goodness. Republicans banned them when the Tea Party class came to Washington in 2010 opposed to the crony corruption. Who can forget pork-barrel embarrassments like the "Bridge to Nowhere," the "Monuments to Me" projects that members got named after themselves, or the turtle tunnel in Florida (yes, it's a tunnel for turtles)? Earmarks were everything Americans couldn't stand about Washington – corrupt, wasteful, entitled, and out of touch.
Dec 15, 2017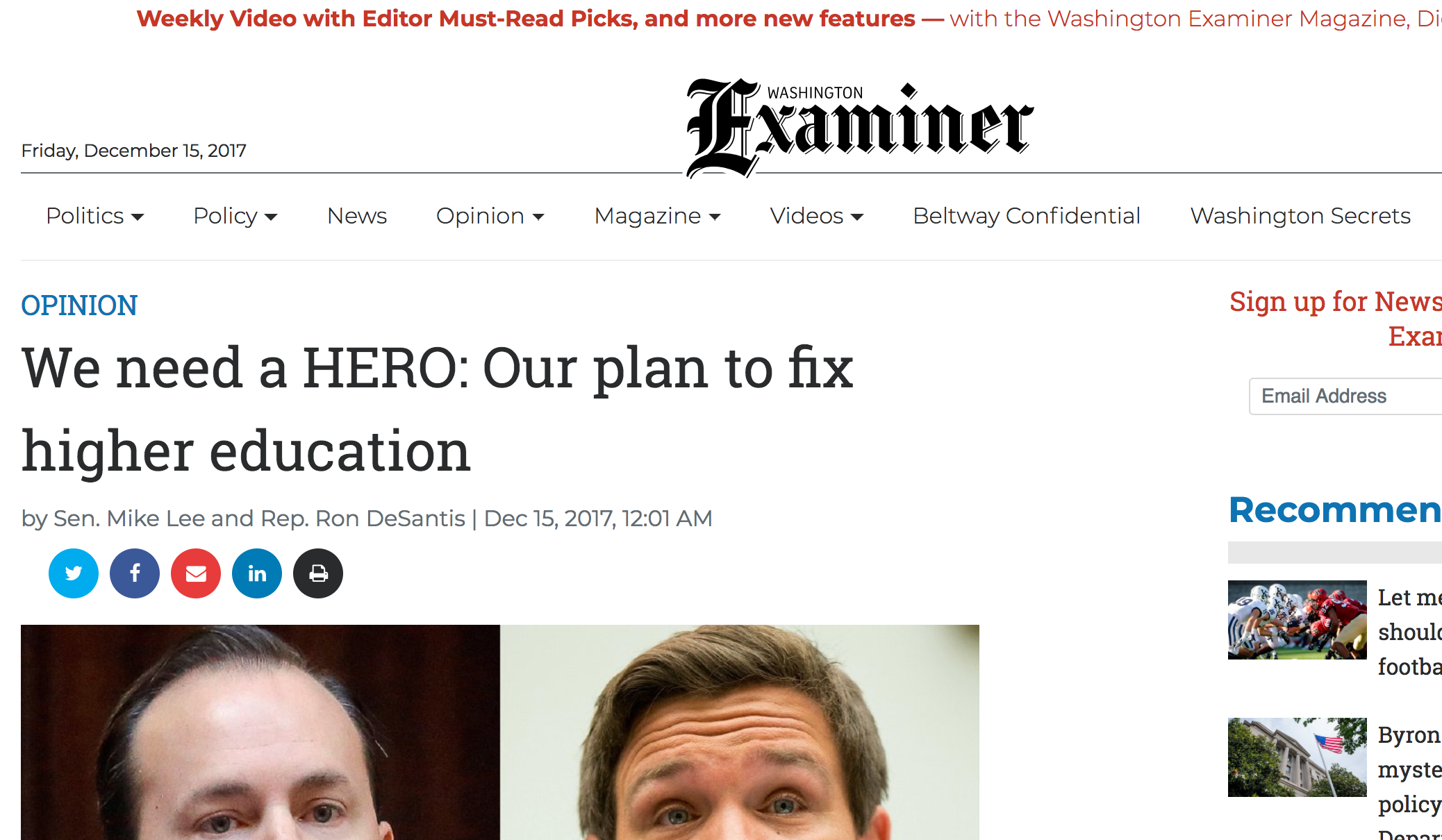 The dawn of the 21st century has brought tremendous opportunities and changes to our economy. One consequence is that everyone needs some kind of education after high school. Yet only four in ten Americans achieve an associate's degree or higher. It's a new game, and it's essential that all citizens can still pursue their American dreams. We need a higher education system that works better for more Americans and their families.
Dec 15, 2017
From our state's earliest days, Utah has placed a high value on education. It is part of our cultural DNA. So it's not totally surprising that when it comes to higher education, Utah is getting a lot of things right. For example, Utah's tuition rates are the fourth lowest in the nation. Our state has the lowest average student debt. And it enjoys an impressive network of private and public universities, technical colleges and alternative education options. These positive data points directly contribute to Utah's status as the most upwardly mobile state in the union.
Nov 6, 2017
In southwestern Utah, federal regulations are artificially pitting people against prairie dogs—to neither's benefit. There are about 80,000 Utah prairie dogs in the region, and the species is listed as threatened. State biologists would like to move the creatures from backyards and playgrounds to public conservation lands, but that's forbidden under federal rules.