Press Releases
Oct 30, 2013
Today Senator Mike Lee introduced a tax reform plan that would replaces much of today's complex tax system with a new, simple structure that provides solutions for America's ongoing opportunity crisis and ends the discrimination of parents in the tax code. The Family Fairness and Opportunity Tax Reform Act is a pro-family, pro-growth plan that incentivizes social mobility, promotes middle-class economic security, and improves opportunity for all Americans.
Oct 29, 2013
Today, Senator Mike Lee (R-UT) will give a speech at the Heritage Foundation on the way forward for conservatives and the need for a new conservative reform agenda.
Oct 16, 2013
Today, Senator Mike Lee (R-UT) delivered remarks on the upcoming CR, debt limit, and ObamaCare funding vote.
Oct 11, 2013
For too long, Republicans have put off the difficult work of developing a modernized, principled conservative reform agenda to meet many of the new challenges of the 21st century. There are many reasons why this is so. But I think the biggest is that in this city, conservatives often fall into a trap – defining ourselves by what we are against: Big government, debt, higher taxes and regulations, Obamacare. But we haven't invested nearly as much time and energy in communicating what we conservatives are for. I'm talking about more than simply the policies we advocate. Conservatism is not about the bills we want to pass, but the nation we want to be.
Oct 7, 2013
The Obama Administration's behavior during the first week of the shutdown has been the best argument against Obamacare anyone has ever made.
Oct 3, 2013
Senator Mike Lee asked for the Senate to pass a bill to fund veterans' benefits by unanimous consent. The motion was quickly shot down by Democrats who provided little explanation for their opposition to funding veterans' benefits.
Oct 3, 2013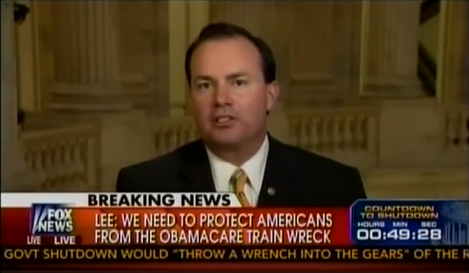 Senator Mike Lee (R-UT) told Greta Van Susteren yesterday that Congress should avoid a prolonged government shutdown by passing a series of smaller funding bills.
Oct 2, 2013
WASHINGTON—Senator Mike Lee (R-UT) issued the following statement regarding today's Senate Judiciary Committee hearing titled "Continued Oversight of the Foreign Intelligence Surveillance Act."
"Today's hearing before the Senate Judiciary Committee on the federal government's use of its surveillance authorities highlighted many of the concerns I have expressed with respect to the scope and breadth of government collection of information on Americans," Senator Lee said. "The Fourth Amendment's protection against 'unreasonable searches and seizures' is designed to prevent against precisely the kind of suspicionless fishing expeditions that the government is currently carrying out under its telephony metadata collection program. Only by narrowing the statutory authorities the government purports to justify this highly intrusive surveillance of innocent Americans can we restore the proper constitutional balance.
"We must also increase the transparency with which the nation's surveillance programs operate. Unless we take steps to restore credibility and public confidence in these programs, we risk not only violating individual privacy, but also harming the competitiveness of important economic interests in the technology and telecommunications industries, including many Utah based companies, that rely on public trust. I believe more information about how these programs operate can be made public without endangering national security."
"I have worked in the past with Chairman Leahy and other colleagues to introduce important legislation on these topics. I look forward to continuing to work with Chairman Leahy to introduce legislation to narrow controversial surveillance authorities, enhance government oversight of surveillance programs, and increase transparency."
Oct 1, 2013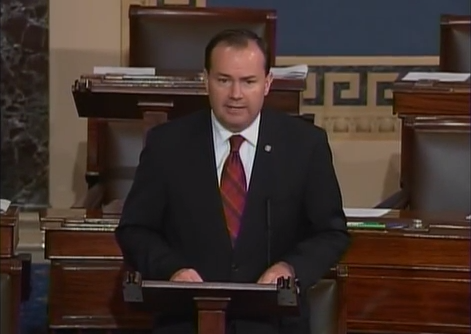 Today, Senator Mike Lee called for an end to the government shutdown by passing smaller, noncontroversial funding bills for government agencies that are not related to the implementation of Obamacare.