Press Releases
Aug 15, 2013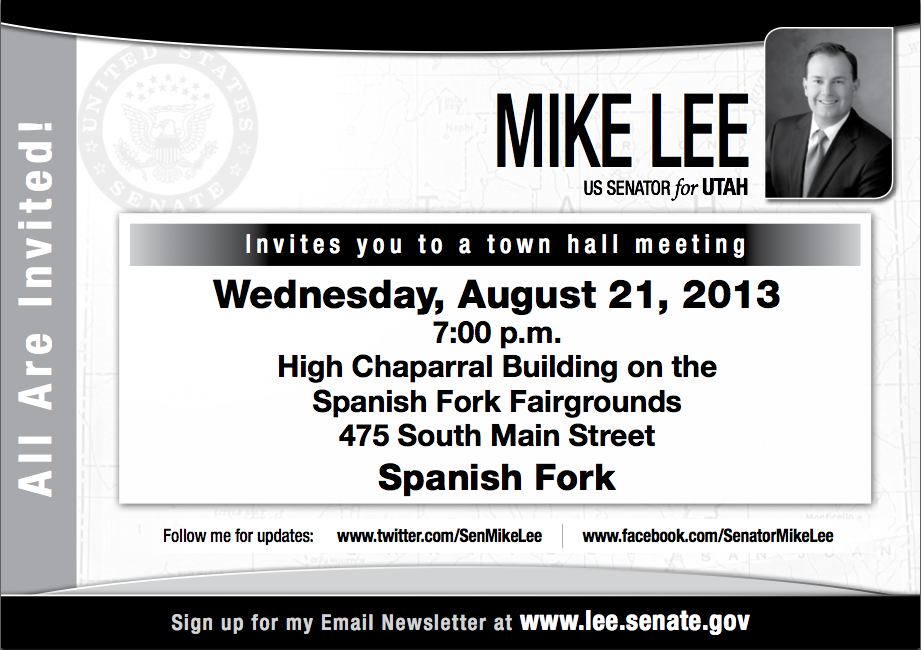 WASHINGTON—Today, Senator Mike Lee (R-UT) announced dates and locations for five upcoming town hall meetings throughout the state of Utah. He will visit with and take questions from constituents in hour-long events in Spanish Fork, Plain City, Tooele, Farmington, and Kanab.
Lee will live-stream the town hall events via Ustream on his Facebook page for those not able to attend in-person. Online viewers are invited to submit questions through Facebook or Twitter, using #LeeTownHall. Press are welcome to attend all events.
The dates, times, and locations of the town hall meetings are listed below:
Wednesday, August 21
High Chaparral Building on the Spanish Fork Fairgrounds
Thursday, August 22
Tuesday, August 27
Wednesday, August 28
Davis County Administration Building
Thursday, September 5
Aug 13, 2013
WASHINGTON—Today, Senator Mike Lee, ranking member on the Senate Judiciary Subcommittee on Antitrust, Competition Policy and Consumer Rights, released the following statement:
"The Justice Department's decision to challenge the planned merger between American and US Airways is an extremely significant development," said Senator Lee. "At the Antitrust Subcommittee's hearing on this transaction, we heard testimony concerning the merger's potential either to benefit or to harm consumers. By focusing its case on the effect of the transaction on competition and consumers, the Department is applying the proper criteria. It is now for the court to decide whether the merger will in fact substantially lessen competition. I intend to continue closely to monitor this transaction and look forward to reviewing in more detail the Department's decision to file suit in this case."
Aug 13, 2013
Today, Senator Mike Lee responded to new reports that the Obama administration is delaying another major component of the president's health care law. On Monday, the New York Times reported that a rule restricting out-of-pocket insurance costs for consumers, such as co-pays and deductibles, would be delayed until after next year's election. This provision was originally billed by the administration as a major cost saver for patients, particularly those with chronic disease. But the cap was leading to huge premium increases, particularly for young families and students.
Aug 1, 2013
Washington, D.C. – With federal prison populations skyrocketing and nearly half of the nation's federal inmates serving sentences for drug offenses, Assistant Majority Leader Dick Durbin (D-IL), Senator Mike Lee (R-UT) have introduced the Smarter Sentencing Act, to modernize our drug sentencing polices by giving federal judges more discretion in sentencing those convicted of non-violent offenses. Making these incremental and targeted changes could save taxpayers billions in the first years of enactment.
"Mandatory minimum sentences for non-violent drug offenses have played a huge role in the explosion of the U.S. prison population," Durbin said. "Once seen as a strong deterrent, these mandatory sentences have too often been unfair, fiscally irresponsible and a threat to public safety. Given tight budgets and overcrowded prison cells, judges should be given the authority to conduct an individualized review in sentencing certain drug offenders and not be bound to outdated laws that have proven not to work and cost taxpayers billions."
"Our current scheme of mandatory minimum sentences is irrational and wasteful," Lee said. "By targeting particularly egregious mandatory minimums and returning discretion to federal judges in an incremental manner, the Smarter Sentencing Act takes an important step forward in reducing the financial and human cost of outdated and imprudent sentencing polices."
The United States has seen a 500 percent increase in the number of inmates in federal custody over the last 30 years, in large part due to the increasing number and length of certain federal mandatory sentences. Mandatory sentences, particularly drug sentences, can force a judge to impose a one-size-fits-all sentence without taking into account the details of an individual case. Many of these sentences have disproportionately affected minority populations and helped foster deep distrust of the criminal justice system.
This large increase in prison populations has also put a strain on our prison infrastructure and federal budgets. The Bureau of Prisons is nearly 40 percent over capacity and this severe overcrowding puts inmates and guards at risk. There is more than 50 percent overcrowding at high-security facilities. This focus on incarceration is also diverting increasingly limited funds from law enforcement and crime prevention to housing inmates. It currently costs nearly $30,000 to house just one federal inmate for a year. There are currently more than 219,000 inmates in federal custody, nearly half of them serving sentences for drug offenses.
The bipartisan Durbin-Lee-Leahy bill is an incremental approach that does not abolish any mandatory sentences. Rather, it takes a studied and modest step in modernizing drug sentencing policy by:
Modestly expanding the existing federal "safety valve": Our legislative "safety valve" has been effective in allowing federal judges to appropriately sentence certain non-violent drug offenders below existing mandatory minimums. This safety valve, however, only applies to a narrow subset of cases. The Smarter Sentencing Act would modestly broaden criteria for eligibility. This change, which only applies to certain non-violent drug offenses, is supported by nearly 70 percent of federal district court judges.
Promoting sentencing consistent with the bipartisan Fair Sentencing Act: The bipartisan Fair Sentencing Act of 2010 – which was authored by Senator Durbin and unanimously passed the Senate before it was signed into law – reduced a decades-long sentencing disparity between crack and powder cocaine offenses. Unfortunately, because of the timing of their sentences, some individuals are still serving far-too-lengthy sentences that Congress has already determined are unjust and racially disparate. The Smarter Sentencing Act allows certain inmates sentenced under the pre-Fair Sentencing Act sentencing regime to petition for sentence reductions consistent with the Fair Sentencing Act and current law. Federal courts successfully and efficiently conducted similar crack-related sentence reductions after 2007 and 2011 changes to the Sentencing Guidelines. This provision alone could save taxpayers more than $1 billion. More information on the Fair Sentencing Act of 2010 can be found here.
Increasing individualized review for certain drug sentences: The Smarter Sentencing Act lowers certain drug mandatory minimums, allowing judges to determine, based on individual circumstances, when the harshest penalties should apply. The Act does not repeal any mandatory minimum sentences and does not lower the maximum sentences for these offenses. This approach keeps intact a floor at which all offenders with the same drug-related offense will be held accountable but reserves the option to dole out the harshest penalties where circumstances warrant. These changes do not apply to penalties for violent offenses.
The bipartisan Smarter Sentencing Act is supported by faith leaders from the National Association of Evangelicals to the United Methodist Church. It is supported by groups and individuals including Heritage Action, Justice Fellowship of Prison Fellowship Ministries, the ACLU, Grover Norquist, the National Organization of Black Law Enforcement Executives, the Leadership Conference on Civil and Human Rights, the NAACP, the Sentencing Project, Open Society Policy Center, the American Bar Association, NAACP Legal Defense and Educational Fund, the National Association of Criminal Defense Lawyers, Families Against Mandatory Minimums, the Constitution Project, Drug Policy Alliance, Brennan Center for Justice, and Lawyers' Committee for Civil Rights Under Law.
Read the Deseret News' Editorial Board's opinion editorial on the Smarter Sentencing Act:
"A bipartisan measure in Congress to roll back mandatory minimum prison terms is a welcome effort to reform federal criminal law sentencing. Excessive sentences harm individuals convicted, who sometimes spend decades in jail for drug crimes far less heinous than murder or rape. More importantly, unwarranted sentences harm our penal system, mocking principles of justice and mercy."
Jul 25, 2013
Today Senator Lee launched the "Don't Fund It" page on his website. This page enables the American People to add their names to a letter that Senator Lee and several of his colleagues have sent to Harry Reid to indicate that they will not vote for a continuing resolution that funds ObamaCare.
Jul 25, 2013
Today, Senator Mike Lee (R-UT) and 11 of his Republican colleagues sent a letter to Senate Majority Leader Harry Reid (D-NV), stating that they will not support a continuing resolution that funds further implementation or enforcement of ObamaCare.
Jul 18, 2013
WASHINGTON - Today Senator Lee voiced his opposition to the nomination of Thomas E. Perez to be U.S. SEcretary of Labor. The full remarks of the speech as prepared for delivery can be found below:
I rise today to voice my strong opposition to the nomination of Thomas E. Perez to be U.S. Secretary of Labor.
There is no shortage of reasons why Mr. Perez should not be confirmed. Several of my colleagues have come to the floor to discuss a number of troubling facts about Mr. Perez's professional history, each one of them reason enough to disqualify his nomination.
Mr. Perez has abused his position as Assistant Attorney General for the Civil Rights Division at the Department of Justice. Rather than seek out and expose instances of racial injustice, Mr. Perez has turned the office into his own personal tool of political activism.
For example, a report issued by the Department of Justice's Inspector General found that during Perez's tenure at the CRD, employees harassed colleagues for their religious and political beliefs.
And, despite having little if any evidence of racial discrimination, Mr. Perez has repeatedly opposed the efforts by states to ensure the integrity of their elections. Under his direction, the Civil Rights Division has pursued frivolous lawsuits against voter ID laws, ignored statutes that require states to purge ineligible voters, and slow-walked attempts to protect the voting rights of military members.
While head of the CRD, Mr. Perez's unit also used spurious and misleading claims to allege racial discrimination and selectively enforced laws to target unfavored groups.
Most troubling, Mr. Perez has willfully disregarded a lawful subpoena from the House Committee on Oversight and Government Reform to produce documents relating the use of his non-official email account for official purposes. According to the Chairman of that Committee, "Mr. Perez has not produced a single document responsive to the Committee's subpoena" and "remains noncompliant."
At a minimum, this is a basic violation of the rule of law and impedes a fundamental function of the legislative branch to provide oversight of the administration.
Anyone showing this type of willful disregard for the law and ambivalence toward America's essential principles of democracy should not be considered for a top post in any administration.
Jul 17, 2013
Today, Senator Mike Lee (R-UT) delivered remarks regarding the need to withhold funding for ObamaCare, saying that no appropriations bill or continuing resolution should fund further implementation of the law.
Jul 9, 2013
WASHINGTON – Today, Senator Mike Lee (R-UT) responded to the Obama administration's announcement that it would selectively enforce certain areas of ObamaCare:

"Delaying the employer mandate and exchange verification rules is the latest and most damning admission by the administration that ObamaCare was poorly crafted, remains unworkable, and, if implemented, will hurt American families, businesses, and our economy. The only solution is to fully repeal ObamaCare and start over with a more sensible, practical approach to fix our health care system.

"Short of full repeal, however, those of us who care about the health care and security of the American people still have a duty to act. If the president has decided he won't enforce his law as it is written, then Congress should not fund any further implementation of it at all.

"It is fundamentally unfair for President Obama to exempt businesses from the onerous burdens of his law, while forcing American families and individuals into ObamaCare's unsound and unstable system.

"This administration has chosen to put its own political preferences and the interests of various government cronies ahead of the American people. Republicans in Congress must now stand up for the individuals and families who do not have the money, lobbyists, and connections to get this Administration's attention.

"And we should do so using one of the few constitutional powers Congress still guards – its power of the purse. As long as President Obama selectively enforces ObamaCare, no annual appropriations bill or continuing resolution should fund further implementation of the law.

"Last week's admission by the administration means that after three years of preparation and trial and error, the best case scenario for Obamacare will be rampant dysfunction, waste, and injustice to taxpayers and working families.

"If congressional Democrats want to oppose appropriations bills without additional ObamaCare funding, shut down the government, and side with the President and big business against the American people, then it's their choice. But three years in, even the president himself has now admitted that ObamaCare won't work. The only responsible choice now is to protect the country from ObamaCare's looming disaster, start over and finally begin work on real health care reform."
Jun 27, 2013
The #Go8 bill we have before us today is an enormous disappointment. The American people deserve better: http://t.co/mLTfzGCHwz

— Mike Lee (@SenMikeLee) June 27, 2013
WASHINGTON—Today, Senator Mike Lee (R-UT) delivered remarks on the Senate floor, expressing his opposition to the Gang of 8 immigration bill.
I rise today in support of immigration reform. I support strengthening our borders and ensuring they are secure before beginning a pathway to citizenship because it is the only way we will avoid repeating the mistakes of the past.I support robust interior enforcement and a biometric visa tracking system because without them we will not solve the problem of illegal immigration.I support modernizing and streamlining our visa system because we need an efficient process of legal immigration that meets the needs of our economy. And I support immigration reform that is both tough on those who have chosen to break our laws and fair for those who have obeyed them. Today, there is reason for disappointment but also cause for encouragement. The bill we have before us today is an enormous disappointment. The American people deserve better.As a matter of public policy, this bill fails to meet many of the goals we set out to meet. It is full of promises to beef up border security, but makes no assurances. This legislation cuts out the American people by cutting out any congressional oversight. It remains grossly unfair to those who have languished in our current legal immigration system, unable to get answers for decades in some cases. It transfers enormous authority and discretion to the Executive Branch, exacerbating an already widespread problem in our federal government. And it fails perhaps the most important test of all: according to the Congressional Budget Office, this bill will reduce illegal immigration by just 25 percent in the next ten years. This should be reason alone to scrap this entire bill. As a matter of process, members of this body should be embarrassed about how this bill moved through the Senate. From Day One, the country was misled about what was in the bill. The talking points never matched the reality of what was in the bill. We were told that if we didn't like what was in it, we could fix it. But that wasn't true either. During the committee "mark up," Democrats and the Gang of Eight Republicans voted as a bloc to defeat virtually all substantive amendments proposed to improve the bill.They said there would be regular order on the floor. But that turned out to be a false promise as well. For a 1200-page bill, the Senate, including the members not on the Judiciary Committee, was allowed exactly 9 roll call votes before the process was shut down. During the 2007 debate on immigration reform, the Senate voted 32 times to amend the bill. Some would argue even that was too small. But certainly nine votes on a 1200-page bill doesn't suggest that the proponents of the bill are interested in regular order.And for the grand finale, at nearly the end of this process, the proponents substituted what is effectively a brand new bill in place of the one we had been debating for over two months. They gave us very little time to read it before we had to vote on it, and, once we were on to the new bill, they did not allow a single vote on any amendments. Mr./Madame President, this is an embarrassment to this institution and an assault on the principles of democracy. But like a phoenix rising from the ashes, from this low point in the Senate springs an encouraging path forward for those, like me, who truly want immigration reform. First, this exercise has laid out in front of the American people all the problems inherent in passing massive pieces of legislation that presume to fix all of our problems at once. The so-called comprehensive approach has been utterly discredited. From denying votes to buying votes, our experience over the past two months only reaffirms why the vast majority of Americans don't trust Washington. The special interests had a huge hand in writing the bill while the American people had none. Almost all of the discussions and negotiations took place in secret back-room deals. And rather than debate policy differences, the debate was a daily "fact check" on misleading and outright false claims made by the bill's proponents. The good news is that the House appears to have learned this lesson and wants no part of it. Already, the Speaker has said the Senate bill is dead on arrival – so today's vote is largely symbolic. The House Judiciary Committee has recently passed two significant pieces of immigration reform – one on interior enforcement and another dealing with agricultural workers – proving that reform can be passed in a step-by-step approach. Indeed, the only reason immigration reform is controversial is because the Senate refuses to pass it one piece at a time. There is simply no legitimate reason why we have to pass a one-size-fits-all, take-it-or-leave-it bill. Though it is likely this bill will pass today, I strongly encourage my colleagues to consider where we started, where we are now, and what lies ahead. They said it would secure the border. It doesn't. Congress has been fooled by false promises before. We shouldn't go down that path again. They said illegal immigration would be a thing of the past. It won't. The Congressional Budget Office confirmed that under this bill there would still be 6 to 8 million illegals in the country in ten years. They said it would be good for the economy. It isn't. CBO also confirmed it would lower wages and increase unemployment. They said it would be tough but fair. It's neither. It is not tough on those who have broken the law and it is not fair for the people who have been trying to come here legally. And if this bill passes today, it will be all but relegated to the ash heap of history, as the House appears willing to tackle immigration reform the right way.The sponsors of this bill had the best of intentions, but in my opinion, intentions aren't enough. As I said at the outset, Mr./Madame President, I stand here today in support of immigration reform. But this bill is not immigration reform. It is big government dysfunction, and it is why I cannot support it.