Press Releases
Jun 29, 2011
"I appreciate Governor Romney taking the time to meet with me today," said Sen. Lee. "I expressed my view that we are currently dealing with the critical fiscal issues of this generation and that we need strong leadership on these issues. I was happy to hear that Gov. Romney supports the Cut, Cap and Balance Pledge including a Balanced Budget Amendment—one of my top priorities—and that his focus remains on growing the economy to create good jobs for our country."
Jun 28, 2011
Today, U.S. Senators Jim DeMint (R-South Carolina), Mike Lee (R-Utah) and Rand Paul (R-Kentucky) introduced the Sound Money Promotion Act, legislation that would remove the tax burden on gold and silver coins that have been declared legal tender by the federal government or state governments. On May 9, the State of Utah became the first state to recognize such gold and silver coins as legal tender for use within the state, and similar legislation has been introduced in 12 other states, including South Carolina.
Jun 22, 2011
"I'm very disappointed in Google's response to the request to have Larry Page or Eric Schmidt testify at our subcommittee hearing. I'm committed to work with Senator Kohl and others on the committee to ensure we have the opportunity to investigate these issues thoroughly and receive adequate responses from Google."
Jun 22, 2011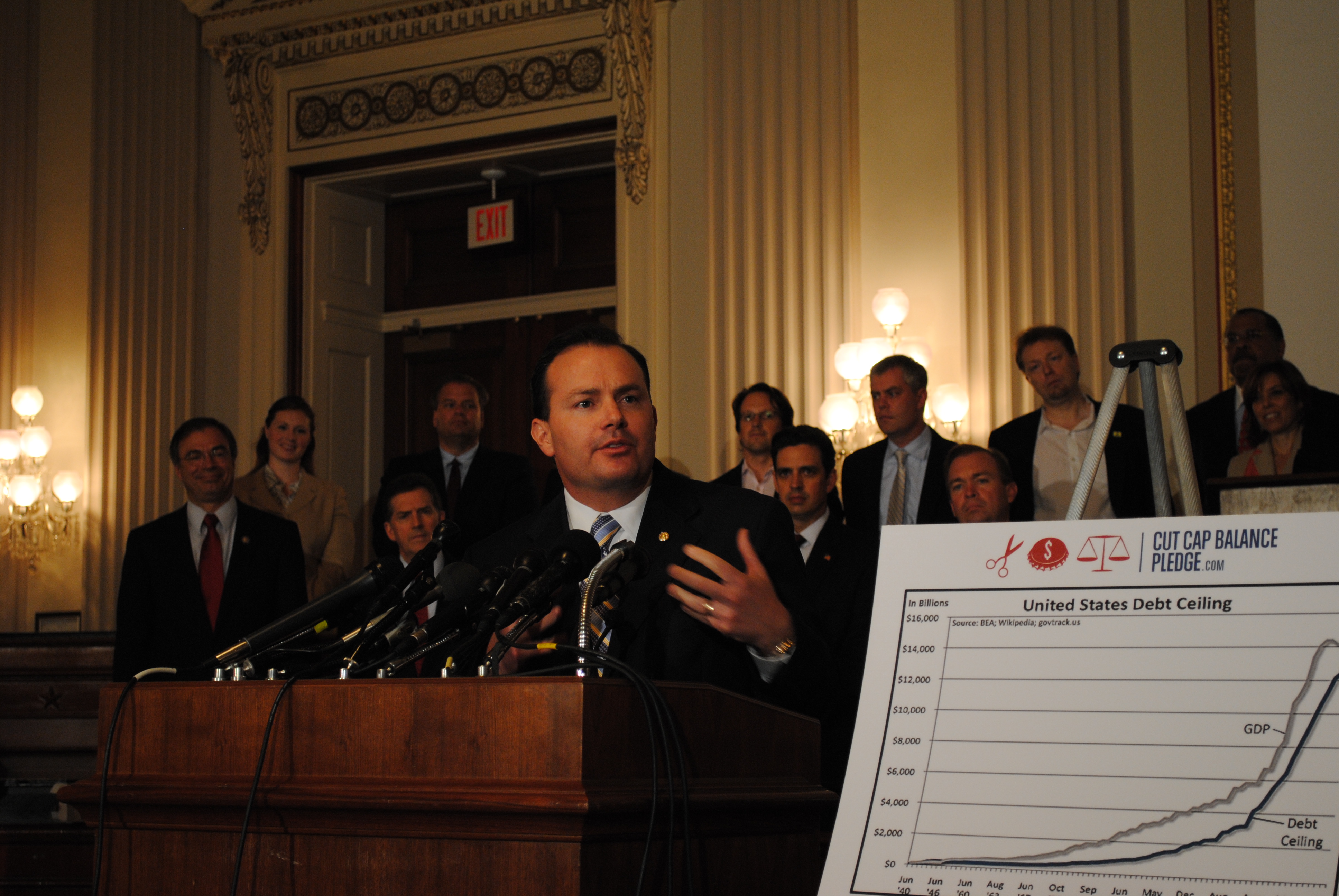 "Cut, Cap, and Balance is the single most significant reform package Congress has seen in decades," said Senator Lee. "It forces Washington to balance its books with strict, enforceable fiscal restraints and will cut spending significantly and immediately to improve our economy and create jobs."
Jun 15, 2011
U.S. Senators Jeff Merkley (D-OR), Mike Lee (R-UT) and Tom Udall (D-NM) and 24 other senators sent a letter to President Obama today calling for a shift in strategy in Afghanistan ahead of next month's announced deadline to begin an accelerated transition to Afghan security forces. In the letter, the senators urge the President to use the deadline as an opportunity to begin a "sizable and sustained" drawdown of troops that puts the U.S. on a path toward removing all regular combat troops from the country.
Jun 14, 2011
Congressman Rob Bishop (UT-01), Chairman of the House Natural Resources National Parks, Forests and Public Lands Subcommittee, today introduced the Utah Lands Sovereignty Act, which would protect Utah from future national monument designations made by Presidential executive order. Congressman Jason Chaffetz (UT-03) co-sponsored the bill and Senators Orrin Hatch (R-UT) and Mike Lee (R-UT) introduced companion legislation in the Senate. In 1950, Congress passed a law that prohibited the future establishment of national monuments in Wyoming except as authorized by Congress. This legislation would provide Utah with the same level of protection.
Jun 1, 2011
Today, Senator Mike Lee applauded the decision by Secretary of the Interior Ken Salazar to not designate any lands as "Wild Lands" in accordance with the 2011 Continuing Resolution. Senator Lee also indicated he stands ready to work with the Utah state legislature and other state and local officials to evaluate current wilderness study areas.
May 26, 2011
Senator Mike Lee (UT-R) and 22 of his Republican colleagues on Wednesday signed a letter to President Obama, calling attention to the failure of the democrats to produce a budget in 756 days. Lee and others are urging the Administration to work with budget experts to develop plans to allocate spending within a $2.6 trillion Debt Ceiling Budget.
May 19, 2011
WASHINGTON – Today, Senator Mike Lee criticized President Obama's call for Israel to return to its pre-1967 borders. He released the following statement:
"I condemn in the strongest possible terms the President's irresponsible suggestion that Israel return to its pre-1967 borders. I agree with Prime Minister Benjamin Netanyahu that this move would leave Israel in a militarily indefensible position."
May 19, 2011
WASHINGTON – Today, Senator Mike Lee expressed his profound objection to the nomination of Goodwin Liu as a Judge on the U.S. Court of Appeals for the Ninth Circuit. In a speech on the Senate floor, Senator Lee articulated two primary reasons for opposing the nomination.
"First, I am truly dismayed by the lack of judgment displayed in Professor Liu's 2006 testimony regarding the confirmation of Samuel Alito as an Associate Justice of the Supreme Court," said Lee, a member of the Senate Judiciary Committee and former Assistant U.S. Attorney.
During the confirmation hearing of Justice Alito, Liu made controversial and inflammatory remarks misrepresenting Justice Alito's judicial record.
"His comments about Justice Alito were offensive not simply because they were unhelpful in his confirmation process, but because they were a misleading and unwarranted personal attack on a dedicated public servant."
"Professor Liu's treatment of Justice Alito, and his last minute and incomplete handling of the concerns raised by his remarks, lead me to believe that he lacks the judgment and discretion to be confirmed to a life-tenured position in the judiciary."
Senator Lee also explained that "the judicial philosophy espoused by Professor Liu is fundamentally inconsistent with the judicial mandate to be a neutral arbiter of the Constitution and to uphold the rule of law."
"Throughout the course of numerous speeches, articles, and books, Professor Liu has championed a philosophy that in my judgment is incompatible with faithfully discharging the duties of an appellate court judge in our constitutional republic," he added.
Lee concluded: "Professor Liu's appalling treatment of Justice Alito leaves grave doubt in my mind as to whether he possesses the requisite judgment to serve as a life-tenured judge. And I have come to the conclusion that Professor Liu's extreme judicial philosophy is simply incompatible with the proper role of a judge in our constitutional republic. For these reasons, as well as those articulated by many of my colleagues, I am compelled to oppose this nomination."